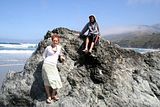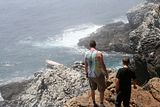 Michael, Justin and I headed up the PCH to BIG SUR this last weekend... The drive along the 1 is beautiful! (and long)
On the way we stopped off at Elephant Seal beach - The seals were just lying on the beach, they looked like washed up fish! They made this crazy deep barking sound that made us laugh... and the male seals would often fight... but of course Michael was more excited about the squirrels on the beach than the seals... so, he occupied his time by trying to catch them...
While driving up the 1 we blasted Mason Jennings (who has a cd with songs about the california coast on it)... we played the song Big Sur over and over and yelled the verse that says:
"45 miles south of Monterey and the San Lucia Hills the sunshine shone me to sleep and I dreamt I was alive... "
After a 7 hour drive we made it to Big Sur... I was blown away at how beautiful it was! I was also blown away that we got a campsite at Peifer State Park without reservations... we were very blessed, when we showed up there were only 5 campsites left, and we got one! The next day wasn't that easy though.. to get a campsite for the NEXT day we had wait around till 1pm.. which made us get a late start on our day..
Our camp had this amazing creek running through it... the water was so clear and crisp... at one part the water formed what looked like a little blue lagoon and it was deep enough to jump into a swim.. It was nice because it was so clean and clear and perfect looking...
We went to the most amazing beach in Big Sur - it was a little hidden. We had to take a 2 mile long, windy one way road through a canyon, and then we took a short walk between two mountains, and there it was!! It was so nice (besides the fact that the wind was sand blasting us) ... There were rocks in the water that formed little arches and holes that the waves would splash through, we saw an otter playing in the waves... the water was crystal blue.. there weren't that many people out, it was secluded, it was so nice!! We heard a rumor that this one of the top 100 beaches to visit..
We also went to Julia Peifer state beach to see a waterfall that was right on the sand.. The beach was unreachable, but it was still worth going to see.. it was a cool little lagoon with bright blue water and this little waterfall landing right on the sand...
Big Sur by Mason Jennings:
just let the disc play
this is a song to give you hope
i wouldn't have it any other way
this is a song to give you hope
when you say
honey i'm afraid to sleep at night, sleep at night
honey i'm afraid to sleep at night, sleep at night
well, i wish i had my arms around you
this is a song to give hope
just let this thing surround you
this is a song to give you hope
when you say
honey i'm afraid to sleep at night, sleep at night
honey i'm afraid to leave tonight, leave tonight
i said go, go on
go, go on
i said i, i love you truly
so go, go on
and get jump on the finer things
this is a song to give hope
you never know what the past will bring you
this is a song to give you hope
when you say
honey i'm afraid to sleep at night, sleep at night
honey i'm afraid to leave tonight, leave tonight
i said go, go on
go, go on
i said i, i love you truly
so go, go on
forty miles south of monterey and the san lucia hills
the sunshine shone me to sleep, and i dreamt i was alive
i sang myself a song, it went, know what you know,
stay when you stay, and go when you go
and i call it intuition, flowers bloom and hummingbirds fly
yes, i call it intuition, it gets me by
sailing on a silver ship out to the open
lonely and realizing that our friendship's been broken
and the funny thing to me is how quickly it slips away
and leaves you thinking of the things that were never spoken
and you know loving me is not enough
and i know future is as future does
sailing on a silver ship out to the open
lonely and realizing that our friendship's been broken
and the funny thing to me is how quickly it slips away
and leaves you longing for the things that were never spoken
and you know loving me is not enough
and i know future is as future does